Henry McOrmond
1842-1909
Henry McOrmond was born on Christmas day, December 25, 1842, in the North of Ireland. He is the firstborn son of James McOrmond (b: 1819) and Mary Neally, having first arrived in Canada as a small child with his folks, around 1846. The home of his parents, at the time of Henry's birth cannot be verified, to date. Although, innumerous Sources, i.e., Census & Vital records, record "Northern Ireland" as birthplace, there is no known church or vital birth record, to fact. There have been no specific naturalization records found and many sources conflict in certain naturalization facts. Ironically, there exists a microfilming error (omitted images) on the recording of original naturalization records, thus, it cannot be known in certainty if a specific record for him actually exists. To date, none have been found.
Unfortunately, there are not many "essentials" about Henry from an "official-records" perspective. Many of the earliest church records, for example, were lost due to fires in Ireland. However, there is much that is known of him through various other procurements, such as directories, heirlooms, etc. Examples of this can be found through various records indicating his learning in the machinist/toolmaker trade at a young age, and staying with it all his life. It is from this perspective we have a reasonable working knowledge of his history, albeit, somewhat limited. This skilled profession which was passed to each of his sons, who in turn passed some of their handiwork on to their children.
Most folks in the United States embrace their McOrmond history, through Henry's clan. With one thing certain: if you live in the United States, there's a 75% chance you're one of Henry's descendants! That's quite a percentage, given the number of folks out there and number of generations credible of him.
Henry was married twice and had thirteen children. His first marriage was to Maria Bailey having taken place 2 February 1866, in Lowell, Massachusets. Remember, at that time there were no specific laws to register. Folks only did so through a church they may have attended. Many of those are gone, today. It is known Henry remained married to Maria, until her death in 1889. His 2nd marriage was to Lena Roberts on 31 December 1891, in Bridgeport, Fairfield, Connecticut.
Henry grew up with his folks, in Quebec, Canada. In January 1861 at the time of the Canada East Census he was living with them. Corroborating sources indicate shortly after that time, he immigrated to the United States. He lived in Massachusetts on two separate occasions, New York and eventually Connecticut, where he spent the remainder of his life. All through those days, we know Maria was with him.
Henry immigrated to the U.S. in 1861. The month of Naturalization is, as yet, unknown. According to 1880 & 1900 Census' he was Naturalized. A major omission of microfilmed image records was inadvertently omitted during their creation. This misfortune leads serious consideration of whether Henry's records are existent, at all. What is known in certainty: Henry came to the U.S. during 1861. Source: NARA - National Archives & Records Administration
Now, Henry had better credentials than the typical, run-of-the-mill (pun, there) machine "operator" of the day. He was a trade professional (his membership in the International Association of Machinists is proof of that). Much of Henry's work would have been to create the tooling/dies to keep various machines up and running. This should not be confused with production, per se. A Toolmaker makes components, tools, dies, etc., to keep the production machines running. This wouldn't directly make production quotas/piecework standards; rather this type of job classification should be looked upon more as assistance to making production quotas possible. It would have been unlikely, that with his skill, Henry would have worked on some sort of production line. (Compare: a typical Assembler creating certain product components, and also assembling them - this is not the norm). With these things considered, Henry's abilities would have been more technical. A toolmaker compared to a machine operator, is much like an author of a book compared to its printer or publisher. We cannot rule out that he may have worked in sweat shops - however, given the time period, his age, experience and qualifications, Henry was not likely to be "typical" labor as years passed.

Henry's profession: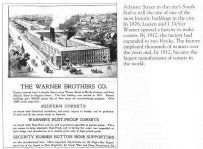 Advert of one of the first companies Henry McOrmond was employed, after arriving in Bridgeport, CT; he worked for a number of places, carrying an honorable reputation for his skills as machinist & toolmaker. We know this from his affiliation with the International Machinists Union and 1890 Bridgeport City Directory.
Historical Notes: Right around the time Henry left Clinton, MA, the country was swelling economically. "A new type of corruption developed on Wall Street in New York City, affecting finances all over the country. There was a brief recession that started around 1869, building to the start of worse thing by 1871 - and then came the Panic of '73." I believe Henry saw this coming and decided his best bet was to go to Rochester, NY - as there would have been more people - more opportunity. (He moved to Clinton, MA from Ayer, MA, staying for a very short time, around 1870). "Now, the 'Panic of '73' was just that: a panic - the next 4-5 years was the difficult time, as the country fell into a great depression. In fact, it was called just that: 'The Great Depression.'"
"People in our age tend to think of the depression 1930's as "big", and yes, it was - but the Great Depression of the 1870's had far worsening effects. Even the rich folks took it hard. Credit seized up - banks were tight. Creditors wouldn't lend any money to the factory owners. Eventually, the factory owners were running low on funds to pay their workers, so they had to lay them off. With all these laid off workers, there wasn't a large cash flow. Therefore, the demand for goods went down. When the demand for goods went down, there were still more people getting laid off. All of this created a tremendous downward crunch that affected everyone in the worst possible way. Even private owners lacked the funds to respond the enormous needs of the people…" - Sources: Pete Hamill, writer - David McCullough, historian
Folks like Henry and other immigrants got hit the hardest because they didn't have their roots here, very long - and like any tree without strong roots, surviving a storm was difficult. The number of homeless reached record proportions. Police stations would open up their basements for the swarms of people that had nowhere else to go - and even they became overcrowded. Through all of this, Henry worked. He lived in clean neighborhoods and kept our family intact.
The Great Depression was considered 'over' in 1882. Henry had returned by then, to Clinton, MA. And as the economy picked up, so did he - moving to Bridgeport, CT by 1885.

At one point in time or another, each and every one of Henry's sons worked as Machinists and/or Toolmakers. It seems unlikely that they would have continued in their father's footsteps, unless the profession was reasonably profitable. His son, Arthur, remained in the trade after his study of law and passing of the Connecticut State Bar Exam in the early 1900's.
Employment - Some of the places Henry worked in Bridgeport - 1887 - 1899
Henry worked (with son William) at the Ashcroft Manufacturing Co., 1887-8, worked Eaton Cole & Burnham Company, 1889. In 1890, he worked at the Warner Brothers Co. In 1891-1896, he's recorded only as a machinist, but in 1897, the American Oil Co., appears as his employer. In 1898, he's again recorded only as a machinist, 1899 shows he moved to Ansonia. Henry's last employer (before his death in 1909) was the Salts Textile Manufacturing Company.
Henry also belonged to the I.O.O.F. (Independent Order of Odd Fellows), a wee known community organization.
Odd Fellows Temple (formerly the Second Congregational Church)
Excerpt from Bridgeport Telegram - 1924 Pequonock lodge was first organized in 1841.
Sometime afterward the charter expired and a reinstitution was granted in 1869. Since that re-birth Pequonock lodge has been identified closely with the development of the city. In its ranks are to be found within most of the prominent men of the city, to which it has furnished at least eight mayors. Pequonock lodge originally met in the building at Wall and Water streets. Some years later four of gathering in the rooms now occupied by the Public Library....
- From the collection of Duane Brewer.
Lest we forget, Henry was indeed married and had quite a large family to support. Transcriptions of records from the Church of the Good Shepherd, Clinton Massachusetts, show Henry McOrmond and Maria with seven children, no names listed of children on those pages found - although Maria is listed as baptized. [By Oct. 1880].
Maria Bailey was born 06 December 1844 in Ireland, and died 06 March 1889 in Bridgeport, Fairfield, Connecticut. Her actual DOD Cert was procured from Stratford, CT - this was also considered East Bridgeport, at the time. Many of her family records were recorded between 1874 - 1895 by Church of the Good Shepherd, Clinton Massachusetts, along with those of Henry.
| | |
| --- | --- |
| &nbsp: We know, of course, Henry arrived in the U.S. in 1861, according to the 1880 & 1900 U.S. Census. Other than their Marriage record, a Vital Record specific to "Marie," as Henry once called her, has yet to be found. However, there were some items of information found of her to help us better know (at least a little) whom she was. Maria's nationality is recorded incorrectly as "English" on her son Arthur's marriage license, with Henry's nationality listed as Canadian. She was, in fact, born in Ireland - as were both her parents. It is entirely possible she met Henry in Massachusetts, once he arrived there in the early 1860's. | |

Obituary - Bridgeport StandardMarch 8, 1899

&nbsp: McOrmond - In this City, March 6, Maria, wife of Henry McOrmond, aged 43 years. - Friends are invited to attend the funeral from her late residence, No. 228 East Main street, on Saturday, March 9, at 2:00 p.m. à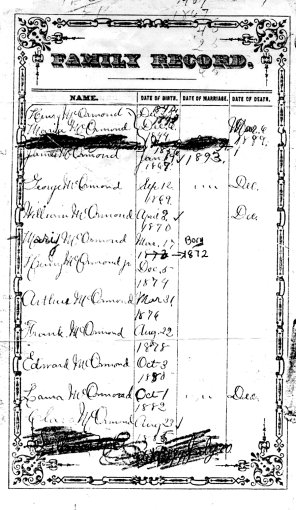 Family Bible Page
Source: Marion Rode -through Irene Hungerford
After Maria's death, Henry married Lena Roberts. Lena Roberts was the daughter of William Roberts and Harriet Cook; born 11 November 1852 in Waterbury, New Haven, Connecticut. She lived for many years, thus more is known about her. The Roberts & Cook families have longtime histories in New Haven County, CT. In fact, her mother was from Humpreysville - now known as Seymour, CT.
DOM Cert. - Source information: Marriage - Henry McOrmond
The Relevant Date of this Event is: 31 December 1891
Sex: Male
&nbsp:- Type of Document Recorded as: Marriage
&nbsp: - State: CT - County: Fairfield
&nbsp: - City: Bridgeport
&nbsp: - Marital Status: Widowed
&nbsp: Henry McOrmond's Birth: Ireland - Age: 53
&nbsp:
- Spouse Information - Name of Spouse: Lena Brown
&nbsp: - State: CT - County: New Haven
&nbsp: - City: Waterbury
&nbsp: - Age: 35
&nbsp: - Marital Status of Espoused Prior to Event: Widowed

Performance of Ceremony Information: Name: S. A. Sands - State: CT - County: Fairfield - City: Bridgeport
&nbsp: - Capacity: ClergymanNumber of Marriages for Bride: 2 - Number of Marriages for Groom: 2

&nbsp: - Registering Person: George Watson
&nbsp
Document Procurement Information: Document Procurement Location Name: Bridgeport Vital Statistics - McLeavy Hall, 202 State Street, Rm 105City: Bridgeport, County: Fairfield, State: CT Registering Person: George Watson Date Obtained: 05 February 2002 - Page No.: 431 - Marriages, 1891
"Lena was a wonderful woman who would give you anything and everything." And she would generally expect that little "tag of appreciation" one would have to acknowledge her for. When gift giving time came, "Granny Griffin," as she was known by her grandchildren, would "want that little extra from someone" - "something inside of them that would let her know they truly appreciated what she did for them." And Lena was quite a giver!

Lena was a Methodist/Episcopal - as were her daughters. She had an accident in her later years: fell down and broke her hip. She is remembered as having come from a time when children were generally seen and not heard - "Sometimes, as a child," (her granddaughter) Ginny explained, "many things we said couldn't be expressed or understood..."
According to the 1910 Census, Lena was the mother of 3 children, with 2 of these children living at the time Census was taken. Quite possible, she and Henry lost a child before he died. No vital record has been found to corroborate with this - although the "unknown" child could have been from a previous marriage.
The Bridgeport City Directory 1909 did not list any McOrmond folks in the alphabetical listings, although on the street listings, it has Lena's residence. This would indicate her moving not long after his death, given the publication timeframe of the directory, itself. The photo on the left was taken in the year 2000 - Lena's residence immediately following time of Henry's death (1909) - and the same place found in the U.S. Census & directory records. The neighborhood changed quite a bit since those days - but it is still there.

On 25 March 1924, after more than 10 years of living alone, Lena married Henry Griffin - a fireman working for the City of Bridgeport, CT. He is remembered by Lena's grandchildren as being, "a man we visited often…"
Lena continued for more than 28 years after Henry died and passed 27 February 1937 in Bridgeport, Fairfield, Connecticut. Her DOD-Cert. incorrectly recorded her DOB as 19 November 1859. In true McOrmond tradition her name incorrectly appears as "Gena" Roberts on (daughter) Alice's DOD Cert.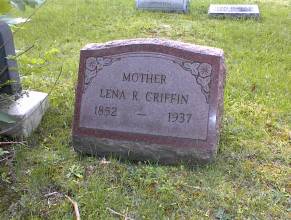 Lena was buried 02 March 1937, at Lakeview Cemetery, Bridgeport, CT Bridgeport, Fairfield, Connecticut.
Returning our thoughts to Henry, there are a few notes from our family that should be noted: With my first contact with his granddaughter, Ginny, she explained that Henry, in his later years, had a strangulating hernia. It required him to wear a truss. [I wonder if having worked at Warner Brothers had any influence on this...?]

Henry McOrmond died 08 January 1909 in Bridgeport Hospital, Bridgeport, Connecticut. There were, at the time of his death, 2 families living in the house, at 952 East Main Street. The cause of death recorded as "Intestinal obstruction".... with duration 5 days - brought on by: inanition for 3 days His residence at time of death was 952 East Main Street, Bridgeport, Connecticut. The Obituary transcriptions follow:
Obit(s): Henry McOrmond - Henry McOrmond. Henry McOrmond died yesterday at the Bridgeport hospital aged 67 years. The deceased is survived by a widow, two daughters and five sons. He was a member of Pequonnock lodge, I.O.O.F., and had been an Odd Fellow for 30 years. He was also a member of Lodge 30, International Association of Machinists, and was also a member of Washington Park M. E. church.- Bridgeport Morning Telegram, Saturday, 09 January 1909

Henry Mcormond aged 67 years, died at the Bridgeport hospital Friday after an illness of some length. He was a machinist and a member of the Washington Park Methodist church. He was also a member of Pequonnock lodge, Independent Order of Odd Fellows, and had been an Odd Fellow for about 30 years. He also belonged to the International Association of Machinists, Lodge No. 30. A widow, two daughters and five sons survive him. - Bridgeport Daily Standard - 11 January 1909.

Henry was buried on January 9, 1909 at Park Cemetery - 94 Wall Street, Bridgeport, Fairfield, Connecticut (Current entrance, 620 Lindley St., Section 4, Lot 69). The stone found at Henry's gravesite was placed in recent years, by Marion and Ron Rode. This is noteworthy as previous visitations by folks to the gravesite appeared unsuccessful in finding the stone. Her notes appear to the right.

Personal notes:
I believe one of the peak notations we could make on Henry's life, was how he made himself such a valuable commodity within his trade. Most trade-persons would agree. And most historians would concur: Henry was a success story of the "Immigrant-coming-to-America" dream. Folks in the states need always remember him, as he was one fine Irish-American forefather.


Excerpt of Certified copy of Henry's DOD Cert
Note: The aforementioned strike-through on Line #2, Line # 16
There other enormous errors found on (son) Arthur's DOD Cert; his mother (Arthur's) is listed as "Sara Bailey" of Ireland and his father as Henry McOrmond of Ireland. The information given to clerk of vital records by informant, Cora, was inaccurate - there are innumerous records to contradict this info. Henry's nationality is listed on his son Arthur's marriage license, as Canadian. [Henry moved to the U.S. from Canada - but was born in Ireland.] - It is now easy to understand how the earliest found information of Henry was inaccurate, i.e., folks believing in a Scot ancestry throughout.
The preceding image is that of Henry's DOD Cert - containing quite possibly the greatest recorded blunders in our family records! The single strikeout (through mother's name) has been the cause of discrepancies and confusion within many collections of McOrmond family genealogy, worldwide. Indeed, it is the epitome of "invalid information given at time of recording, and its subsequent effects."
Oddly, the informant of much of the information appears to have been son, James. What we have here (in the case of Henry's death), is either James not knowing what his grandmother's name was - or, one very mistaken registrar! Not a tragedy, in itself - but it does give a good indication on the closeness (or lack of) between some of the folks living at the time.
Henry will always be remembered as a hard worker and good provider for his family - his story continues through the lineage of his children - Click Next to continue...