Clan of Henry McOrmond - contd.
Arthur, Frank, Edward, Laura, and Clara - Page 2 of 3

Arthur Richard McOrmond was born 30 March 1876 in Rochester, Monroe County, New York. Many details of his life are best told from an article written from the Ansonia Sentinel, shortly after his death - it is transcribed posthumously.
Arthur was well respected, by all around him. Of the many things he'd accomplished in his short life - one standout was being a member of the Four Minute Men - a unique body of men personally recognized and awarded by (then) President Woodrow Wilson.

The Four Minute Men were organized as an active part in many of the patriotic drives, speaking in school houses, churches and theaters, and were great factors in putting counties "over the top" in all the Red Cross, Y. M. C. A., and Liberty Loan campaigns. Their rule was that their cause was strong and that they could afford to be frank and open, ready to conceded doubt, wherever doubt rightfully existed, and making no claims beyond what they knew to be true, and thus standing on the rock of fairness, honesty being their armor, frankness and fairness their weapons.


WEDDED AT BRIDE'S HOME.

Miss Cora O. Noe and Arthur R. McOrmond Married, Thursday Night. It was a very quiet but pretty wedding that was held Thursday evening, at No. 118 North State street, the home of Mr. and Mrs. Alexander Noe. The contracting parties were their daughter, Miss Cora Orilla Noe, and Arthur Richard McOrmond, who until recently lived in Bridgeport. The wedding took place at 7:15. Rev. Fred Saunders officiating, only the immediate relatives of the bride being present. After the ceremony the wedding supper was served, and a most enjoyable time resulted. After a short bridal tour Mr. and Mrs. McOrmond will locate in Ansonia on North State street. Though the wedding was strictly private, Mrs. McOrmond was the recipient of several handsome presents from friends, who had learned when the event was to take place.

- Ansonia Sentinel, Friday, 13 April 1900


| | | |
| --- | --- | --- |
| | Cora's family was from Plattsburg, New York, though she herself was born in Ohio. She is the daughter of Alexander Noe and Elizabeth Mickle, born 07 September 1883 in Gypsonburgh, Sandusky County, Ohio. Those who had come to know her, remember her as "Coco" - a name given her by her granddaughter, Marjorie, when she wasn't quite old enough to say her grandma's name so well! Coco was very much a socialite, back in her day. She sang opera in the Ansonia area for performing in the local opera houses. She was like Arthur, in that she too, was well loved and respected in the community, as well as within the family. | |
Children of Arthur Richard McOrmond and Cora Noe are:
i. ELINOR ELIZABETH MCORMOND , b. 24 May 1902, 21 Locke Street, Ansonia, Connecticut
Married: James Joseph Hannon, 17 March 1925, New York, NY
Died: 06 February 1941, Middletown Hospital, Middletown, Connecticut.
ii. ALEXANDER HENRY MCORMOND , b. 04 May 1908, Ansonia, New Haven, Connecticut
Married: Evelyn Marie Hubbell, 11 December 1928, New Haven, Connecticut
Died: 20 February 1974, Milford, New Haven County, Connecticut.
This is my grandfather.
(Note: Evelyn's father started Hubbell's Shore Store the oldest, in Connecticut. (My great-grandfather) )
iii. ARTHUR CONKLIN MCORMOND, b. 25 September 1914, 87 High Street, Ansonia, Connecticut;
Died: 20 September 1915, 33 Arch Street, Ansonia, Connecticut.

Arthur was most likely (middle) named from the doctor who assisted Cora in his delivery, Arthur Conklin McOrmond died while still an infant. He was buried on 21 September 1915, Pine Grove Cemetery, Ansonia, New Haven County, Connecticut Medical Information: Dr. W. H. Conklin noted on Death Certificate an illness duration "period of 2 days."
A detailed "lfe story" of Arthur may be found by clicking here.
Interesting Footnote on Arthur's Middle name

A record found via the Massachusetts State Archives, shows Arthur's middle name at birth as: "Dow" - this would be more accurate than the MA State DOB Cert, since the information from the DOB Cert was incorrectly transcribed from the original log! The DOB Cert incorrectly indicates Arthur "Doro" McOrmond


TGP has a copies of all. No records can be obtained from New York State where he was actually born. There is no explanation where or when the middle name "Richard" was first used. - however, on every shard of legal documentation (other than those aforementioned) the is no occurrence of "Dow" - except on the first known legal record made of him!
Cora remarried Frederick Pierson (a well known and well liked widower), 10 years after the death of Arthur.

I was quite young myself, yet I remember them both in their later years. The image at left was "clipped" from digitized 8mm film.
| | |
| --- | --- |
| | Arthur died young at 49 years old: 27 December 1925 in New Haven Hospital, New Haven, Connecticut. He spent many of his later days with illness. Cora died 12 July 1965, in her Milford, CT home. They are buried together in McOrmond family plot: Pine Grove Cemetery (with son, Arthur, and daughter Elinor), Ansonia, CT. Coco's nephew (Wesley Housel) is buried with them - his is the only gravestone of those buried. |

Frank Neally McOrmond was born 22 August 1878 in Clinton, Worcester, Massachusetts. The spelling of Frank's middle name comes from his baptism. No middle name is recorded on his DOB Cert.
Church of the Good Shepherd:
Under Baptisms recorded (transcribed by Fr. Huddleston):
Frank Neely McOrmond, born August 22, 1878, baptised April 21, 1879. Parents listed as Henry McOrmond and Maria Bailey. The Rev. H.L. Foote was the priest. (note that Neely was spelled in our records with two e's and not ea as you list it. I assume your records are correct and that the priest got the spelling wrong in our records.


Frank married Emma B. Fried, 16 August 1906 in Bridgeport, Fairfield County, Connecticut, daughter of John Fried (Frid) and Annie Johnson. Emma was born 15 March 1883 in Dover, Morris County, New Jersey. They had a daughter, Eleanor, who was eventually adopted, through Emma's marriage into the Tibbals clan before 1910. (Emma divorced Frank by 1910, and later married Clarence B. Tibbals, 06 March 1911) - Emma died many years later on 18 April 1973 in Milford, New Haven, Connecticut. Eleanor died 15 March 1958, Milford. She and her husband, Joseph Richards, never had children.
Frank McOrmond later married Cora Ella Dilks, on 04 March 1919 in Bridgeport, Connecticut, daughter of Joseph Dilks and Matilda Harnon. She was born October 1879 in Elizabeth, Union, New Jersey. He is recorded at 40 years old, a Watchman, living at 27 Fulton Ct. We know that Frank later headed to Elizabeth, New Jersey. He died and was buried there - with no known children with Cora. Cora, herself, eventually remarried, had children and passed on.

At left, is shown Frank's WW I Draft Registration card. n.
"Getting to know" Frank becomes more and more difficult. TGP has procured several official records of him - albeit, it is unfortunate to not have enough information about him. So, let's talk genetics, for a moment (and the value of the little that is known):
The draft record here opened the door to my curiosity in dominant and recessive traits within our family. We know the traits that genes give rise to, may be either dominant or recessive. A recessive gene produces a certain trait only if its effects are not overridden by those of a dominant gene. Now, eye color provides a relatively straightforward illustration of how inheritance of traits works. For example, the union of two blue-eyed persons, because it involves only recessive blue-eye genes, will always produce blue-eyed offspring.
Since Frank's record shows he had blue eyes, it's a safe bet to understand both his parents (Henry & Maria) also had blue eyes. (Actually, inheritance does not always work with such textbook simplicity -- sometimes the child of a brown-eyed parent and a blue-eyed parent will have green or hazel eyes.) But it's interesting to think about...
Edward Bailey McOrmond was the youngest son of Henry and Maria, born 01 October 1880 in Clinton, Worcester County, MA. He married Hazel A Bagwill after 1918, daughter of John Henry Bagwill. She was born 01 December 1893 in California, and died 13 June 1959 in San Bernardino, San Bernardino, California.

In 1900, Edward McOrmond lived with his sister, Mamie, and brothers, Arthur and Henry at 100 Hicks Street, and is recorded Occupation of "Machinist Oper." Shortly thereafter, he moved to Stratford and then later stayed with his brother Will, in New York. By 1910, he was recorded as living in Tombstone, AZ - working as a pump operator, in a silver mine. Yes, that was the place, where years before, tales of Wyatt Earp and the Shootout at the OK-Corral lore were of. Edward was a veteran of World War I and was aboard the U.S.F.S. Wisconsin, as well as the U.S.S. Prometheus.


After the war, he moved to California. By the year 1924, he had left Tombstone, Arizona and married Hazel - their first-born was a son, Edward, born in 1924. It was shortly after their marriage, Ed and Hazel settled down on a farm in the San Bernardino, California area.

Hazel & Edward George
(twins unknown)
Children of EDWARD MCORMOND and HAZEL BAGWELL are:
ii. EDWARD G. MCORMOND,
b. 13 May 1924, San Joaquin, San Joaquin, California;
d. 11 December 1986, Dateland, Yuma, Arizona.

Edward George McOrmond lived in California and served as Corporal in the U.S. Army during WW II. He eventually met Theresa"Belle" Reveles - and had 4 children.

In his later years, he moved to Arizona and retired.

i. CLAIRE ELLEN MCORMOND,
b. 29 December 1926, San Joaquin, San Joaquin, California;
m.Walter Alsip

Claire McOrmond was born in California on 29 December 1926, near the family farm. She graduated from San Bernardino High School, later remarried and has 5 children.

For a short while, Claire moved north of her California birthplace and settled on a farm of her own, In Idaho. With the snow and cold not favorites of environment to her, she returned to California - where she now lives.
By 1937, Edward Bailey McOrmond was not able to work, "...and on one day he had to get to the hospital, where he died, soon thereafter." Claire told. She does remember her dad, though quite young at the time. He died in San Diego, California.
Hazel died many year later, 13 June 1959 in San Bernardino, California. Both are buried in San Bernardino at Mountain View Cemetery.
Their son, Ed, died 11 December 1986 Dateland, Arizona. He is laid to rest in Riverside National Cemetery in California.
Laura McOrmond was born 03 October 1882 in Clinton, Worcester County, Massachusetts. Although she lived a very short life of only 2 years, Laura has the distinction of being laid to rest in Sleepy Hollow Cemetery, Concord, MA.
This cemetery has internment for innumerous notable people: authors, Louisa May Alcott, Ralph Waldo Emerson. It is Concord's largest cemetery. It has an estimated 10,000 gravesites, many of local, national, and even an international interest. It was one of the first cemeteries in the United States to be designed to have a sylvan (wooded) character and has also been listed in the National Register of Historic Places. Two highly visited areas are Authors Ridge, a measure of Concord's dominance of 19th century American literature, and the Melvin Memorial. TGP is history.

There isn't very much that would have been documented of Laura, as she died of Whooping cough at the tender age of 2 years. She is, however, documented in the Family Bible and was laid to rest 29 December 1884.
The specific plot where Laura is buried is not known - even with assistance of the caretaker records. Location of "babies section" on the grounds is known in surety, though, and pictured below. Based on caretaker information, Laura was most likely buried toward the lower left of image, immediately to the left of the "light" colored stone, shown. You will not see a stone there - there is no underground grave marker.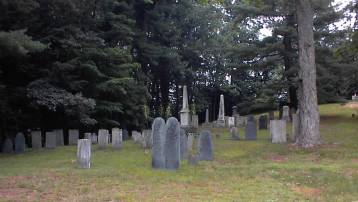 Clara McOrmond was born 23 August 1885 in Bridgeport, Fairfield, Connecticut. No vital record has been found of her from her birth. Around 1920, she married Henry Joseph Hillsinger, son of Caspar Hillsinger and Lena Ittlinger. Henry was born 24 August 1880 in Stratford, Fairfield County, Connecticut.
Clara was very close to folks in the family. Although she and Henry never had children of their own, she is fondly remembered by neice, Marion - having spent many weekends together. She, and her brother (Henry A. McOrmond) were also quite close. She was the person of record in his Probate Records, as well as benefactor for property he once owned in Bridgeport.

There are several photos of her passed down through the years - and she will always be remembered as a fun loving, outspoken individual - who loved to have a good time!
Clara married Henry Hillsinger, around 1908, according to the 1930 Census. There is no record of their actual marriage despite endless hours of searches throughout Fairfield, New Haven, Litchfield, and Greenwich Counties. They might have eloped in New York - or quite possibly, their marriage was never registered, at all.
Clara was also a very hard worker. She is listed in the 1900 Census with the Occupation of Paper Box Maker. Though her schooling was cut short, Clara could read and write well - folks still have some of the many letters she once had written. Unheard of (of women) in those times, she liked an occasional drink (yes, right on through Prohibition), an occasional cigarette, and was quite capable of speaking her mind. She converted to Catholicism when she married Henry Hillsinger. Marion remembers they went to church every week.


Henry's occupation is recorded as Fireman for Bridgeport Fire Dept.
He is 5th from right
Henry died 02 June 1962 in Bridgeport, Fairfield, Connecticut - of Congestive Heart Failure brought on by Arteriosclerotic heart disease (6 yrs.). His burial was 07 June 1962.

"Auntie Clara" died of heart failure in the Pond Point Nursing Home, Milford, CT on 01 October 1972. Her burial was 04 October 1972. Both in St. Michael's Cemetery, Stratford, Fairfield County, Connecticut.