John James McOrmond Clan - Page 1 of 4
John Thomas, Albert and Charles McOrmond

i. JOHN THOMAS MCORMOND was born 28 August 1887, Iron Mountain, Colorado and was a Canadian Pacific Railway agent in Sutherland, Sask. from 1910 to 1946. From 1946 until his death, he was Secretary-Treasurer of the Order of Railroad Telegraphers. He was also interested in politics and ran as a Conservative candidate in the provincial election of 1930. He was defeated in the Liberal landslide at the time. The US 1900 census records show John born in Wisconsin, USA. It is possible John was born in Iron Mountain, Colorado while the family actually resided in WI. John was an avid golfer...
Images in John's life:
John married Florence May Dunlop (b. 22 May 1884, in Pittsburg County, ON) on 24 August 1910, Kingston, Ontario. At one time, she was the mayor of Sutherland, Saskatchewan, now a suburb of Saskatoon. She had the distinction of being the first woman to be elected mayor of any Saskatchewan municipality. There is a street in Sutherland (Saskatoon, SK) bearing the family name as McOrmond Drive.

Of genealogical interest: John's Social Security was carried by the U.S. Railroad, and is therefore, not available from the U.S.S.S. Office. Copies of these records were procured from the U.S. Railroad Board.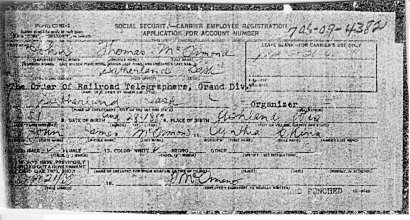 John Thomas' original Social Security application with the railroad

Children of John and Florence McOrmond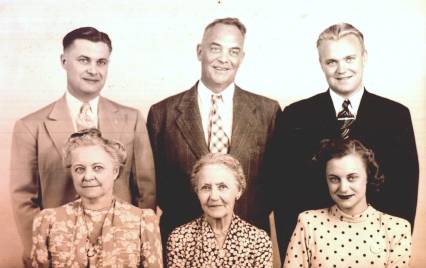 L-R-Back: John, John (Thomas), Gordon - Front: Florence, Charlotte, Dorothy
1) John Dunlop McOrmond b: 05 July 1911 in Saskatoon, SK
John married Blanche Bernice Scobie m: Abt. 1938 in Sutherland, Sask.
d: 06 December 1989 in North Vancouver, B.C.
He was the Western Sales Manager, Eaton Limited, in 1962.

2) Charles Robert McOrmond b: 19 March 1913 in Saskatoon, Sask.
d: 13 June 1944 in over France Charles was a Pilot Officer R.C.A.F, never married.

3) Dorothy Charlotte McOrmond b: 1917 in Saskatoon, Saskatchewan
Dorothy married Robert More about 1943 in Toronto, Ont.
Robert was a pathologist, also Professor of the Medical Facility at Queen's University, Kingston, Ontario.
Dorothy died 09 October 1999.

4) Gordon Grant McOrmond b: 14 October 1922 in Saskatoon, Saskatchewan.
"Grant" married Phyllis Georgina Harrington 24 August 1946 in Saskatoon, SK.
Both were, at one time, teachers, have authored books.
Phyllis was born 31 December 1923 in Saskatoon, Saskatchewan.
Grant died 09 January 2005.

Grant graduated from the University of Saskachewan in 1942. Served in the R.C.A.F. during the war and subsequently with the Primary Reserve at the University of Victoria. He taught in the English Department for 41 years, several of which were spent as Director of Freshman English, and was given a lifetime membership in the Students Council. Grant was Assistant Dean and Director of the Advising Centre until his retirement in 1987. In retirement he enjoyed his garden and had more time for his large stamp collection.


Phyllis taught Home Economics for 10 years, once the kids were older. She has a large doll collection, antique to modern - and has written a book entitled: "My Doll Story"
John died 06 November 1967, Victoria, British Columbia.

Florence died 16 May 1985, Victoria, B.C. They are buried at Hatley Park, Victoria, B.C.

ii. ALBERT EDWARD MCORMOND, was born 26 November 1891, in Milford, Utah. He moved to Montreal with his family, then to the farm in Mattawa, by 1903. By 1920, he returned to live in California, where he learned the plumbing trade. He married a woman named Mary J. (last name presently unknown), b. Abt. 1893, in Ireland. The year of her U.S. Immigration was 1906 and her year of Naturalization was 1916. Albert and Mary had a child, and named her, Mary. Specific information
has been found through indices and records of the 1920 U.S. Census.
Albert's wife, Mary, died at one point, before 1930. Albert is later found on another record in the 1930 U.S. Census, where he lived in St. Louis, MO. Mary had been staying with her aunt and uncle, the Madigans …
Sometime before 1940, Albert married Edith Sylvia Hartline (born 1 Nov 1899), of Buchanan Township, Berrien, Michigan. She was the widow of Otto Bauman. They traveled often together, through the U.S., up through Michigan, even making it back to the farm, in Canada. They spent their last years in California. Albert died on 29 Aug 1972 Maywood, Los Angeles, CA, Edith on 17 May 1978.
Note: An inconsistency with Albert (LDS) records his DOB as 27 November 1891 - (AFN:MV6V-RL)

iii. CHARLES MCORMOND was born May 1893, in Utah, U.S. He served in the Canadian army in WW1. After the war, he returned home in "rather bad shape" and shortly thereafter, sustained a serious foot injury involving an accident incurred while chopping wood. Charles was never married, had no children and died around 1920, in Sutherland, SK

The last son born to John James and Lucinda was Roy...