John S. McOrmond
1824-1895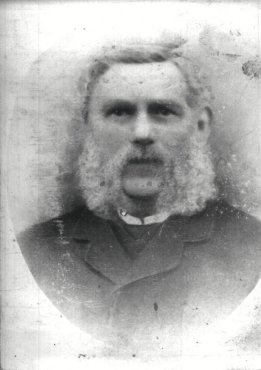 John S. McOrmond, was born Abt. 1824 in Donegal, Ireland. He was the son of John McOrmond born in 1783 and brother of James (b:1819) & William McOrmond b:1809). John married Sophia Wesley Beyers 15 September 1857, in Parish Church of Tuam Co. Galway. She was born Abt. 1835 in Co. Down.
Prior to his marriage, John had signed up into the Royal Irish Constabulary. (His death record states retired Sergeant R.I.C.) Richard Knox recalls him as having been burned out of Boyle Co., Rosecommon.
Much of the known information known of John was originally received from Ray Knox who found him in the Royal Irish Constabulary records identifying a married John, age 20, from Donegal, Ireland, enlisting in 1844. Since this time, a Transcription of the original record has been found and printed forthwith.
The Mormon Church (LDS), has a record of the baptismal of John's son Samuel. In this reference, his occupation is listed as Sub Constable, Foxford, County Mayo, Ireland (1864). William A. Morton is listed as his relative. Ray Knox's genealogist reports his occupation as once Sergeant in the Royal Irish Constabulary.
John died 24 June 1895 in Balteagh, NR., Lurgan (or 50, Edward St., Lurgan) - his age at death: 71 est. Cause of death: Cancer of stomach. Sophia died 29 December 1901 in Balteagh, NR., Lurgan (or, 50 Edward St., Lurgan). Cause of death: Pneumonia & weak heart
Most of the images and information you will be seeing in this profile are through the efforts of Raymond Knox.

John and Sophia had eight children, Samuel Thomas, Emma Sophia, Josephine, Catherine (Caroline), Anne (Annie) Jane, Hariet Gertrude, Joseph and John James. Their sons are not pictured here, as they had (by that time) went to America: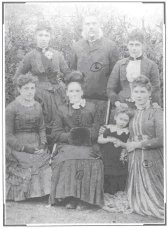 #1 Sophia Wesley (Byers) McOrmond
#2 John S. McOrmond
#3 Josephine McOrmond Woolway
Upper-left - Anne (Annie) Jane McOrmond
Upper Right - Emma Sophia McOrmond
Lower Left Hariet McOrmond
Little girl - Nellie, daughter of Caroline (Catherine) McOrmond
Photo taken 1887 - County Armaugh, Ireland
Source: Peter Knowles/Raymond Knox
ROYAL IRISH CONSTABULARY REGISTER - EXTRACT
Public Records Office, Kew, Richmond, Surrey, England. No.: 5986

Name: John McOrmond
Age when Appointed: 20 Years
Height (F. I.): 5' 8.25"

NATIVE COUNTY: Donegal
Religion: Protestant
If Married, Date: 31/8/1857

NATIVE COUNTY OF WIFE: Down
RECOMMENDATIONS:
By whom recommended. If by a Magistrate, add J.P. If by a Protestant Clergyman, add Clk. If by a R.C. Clergyman, add P.P. or C.C.:
Chief Inspector Carroll
Trade of Calling: Shoemaker
Appointment or
Re-Appointment, Date of: 18/9/1948

ALLOCATION
To What County In order of service of each.:
Tipperary S.R.
Mayo

PROMOTIONS OR REDUCTIONS
Date of-To what Ranks: Promoted 1st Class Sub Constable October 1845
Promoted Acting Constable July 1848
Reverted to 1st Class Sub Constable 29 November 1849
Promoted Acting Constable 1 February 1851
Promoted Constable 1 January 1854
Reverted 2nd Class Sub Constable 1 May 1855
Promoted 1st Class Sub Constable 23 November 1859

REWARDS MARKS OF DISTINCTION AND FAVORABLE RECORDS

PUNISHMENTS
If fined, state the amount

IF DISCHARGED, DISMISSED, RESIGNED or DEAD
State the date thereof.
Pensioned 1 February 1876 - 31 years & 1 month service - £59.p.a.

INJURIES:
Received on Duty, Date of Report
If Dead, probable cause of Death.
If resigned, why?
Remarks: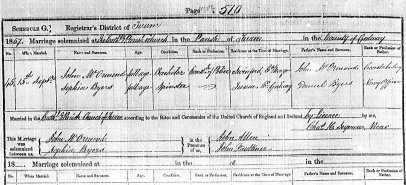 John McOrmond - Sophia Byers Marriage Record
Source: Raymond Knox
Children of John McOrmond and Sophia Beyers are:
i. Emma Sophia McOrmond, d. 15 March 1938; m. Henry Geddes; b. Abt. 1853; d. 05 September 1943.
As per conversation with Richard Knox: Emma taught in Ballymaglaff School near Comber, Co Down, Ireland. Address in Andrew Knox's bible (of 78 Cottage Road, Lurgan) gives address as entered. This also gives the name as entered. (Andrew Knox's Bible gives date of an Emma's death: First page New Testament.)
More About Emma: Occupation: TEACHER ??
Notes for Henry Geddes: Taken from Andrew Knox's Bible New Testament 2nd page.
ii. Caroline McOrmond, m. JOHN HUGHES.
Raymond Knox's father, Richard, indicates that Caroline is the daughter of Captain John. This is still to be confirmed with collaborating evidence. She has a grand daughter named Caroline Campbell living in Australia. Raymond is investigating further (April 15, 1995).
iii. John James McOrmond, b. August 1862, Ireland; d. 1941, Mattawa Ontario; m. (1) LUCINDA JANE AITKEN, Abt. 1886; b. Bef. 1876, Sligo, Ireland; d. Bef. 21 February 1897, Colorado; m. (2) MAY AITKEN, July 1896; b. 01 July 1877, Sligo, Ireland; d. 24 September 1963, Mattawa, Ontario.
More information on John James found in his respective profile, as his clan settled in Canada.
iv. Samuel Thomas McOrmond, b. 07 April 1864, Foxford, Ireland; d. 30 June 1934, Vancouver Island; m. Margaret McEwen; b. Abt. 1867; d. 10 March 1935, Victoria, British Columbia.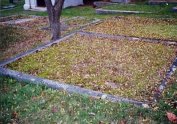 Source: Grant & Phyllis McOrmond
City Directory Listing for Sam's residence in 1891-2
| | | | | | | |
| --- | --- | --- | --- | --- | --- | --- |
| Name | Business Name | | Occupation | Location | City, State | Year |
| Samuel T McOrmond | Revere House | | proprietor | 220-222 Third avenue W | Ashland WI | 1891, 1892 |
Samuel and Margaret had one son, Thomas James McOrmond, who died at a young age (abt. 20 years). He is buried in Ross' Bay Victoria, BC, Canada alongside his folks.
v. Joseph McOrmond, b. 1865; d. 1867. - Sadly, Joseph died as an infant.
vi. Anne Jane McOrmond, b. 1868, Swineford; d. 22 November 1946, Balteagh NR. Lurgan (or 50, Edward St., Lurgan); m. Andrew Knox, Lurgan, N. Ireland; b. 11 September 1873, Drumgivery (Town land) Irvinestown Co. Ferm.; d. 19 July 1961, 82 Cottage Rd Lurgan.
Anne was educated at Trinity College in Dublin, Northern Ireland. Also received a diploma from Marlborough St. training college on March 3rd, 1898. Raymond Knox has original copy of this diploma. She was a School Teacher and resided at Balteagh (near Lurgan)
She is buried in Seagoe Graveyard, Portadown, Ireland.
After the death of Anne, Andrew Knox remarried to Lily Dickie who died March 5, 1969. He was born in the parish of Magheraculmoney. There is a possible connection to Prime Minister of New Zealand by way of Knox, who was also possibly Earl of Ranfurly, or connected to…
Grandfather - (name of Johnston(e)) - fought at the Battle of Waterloo in 1815. Conscription is unknown. Andrew was known to have been a Grocer and Miller.
Andrew is buried in Seagoe Graveyard Portadown, Co. Armaugh. Schooled in Aghagaffert (?) in Irvinestown. Born into C. of Ireland in Parish of Magheraculmoney, C. of Ireland by birth, then Coonyite. Medical description as follows: No Heart disease, No Stroke, No Cancer, No Addictions
vii. Josephine McOrmond, b. 27 May 1871, Ireland; d. 01 April 1948, Kitchener Ontario Canada; m. George Carlton Woolway, 24 December 1890, Plummer, Wisconsin; b. 15 May 1869, Ontario, Canada; d. 1923, Ontario, Canada.

She is buried in Mt. Pleasant Cemetery - London, Ontario, Canada. George is buried in St. Mary's Cemetery - St. Mary's, Ontario, Canada.
viii. Hariet Gertrude McOrmond, b. 19 February 1873, County Sligo, Ireland; d. 11 December 1950, Bridgeport, Connecticut, USA; m. Thomas Henry Tuft, 09 October 1902, Bridgeport, Connecticut; b. 08 March 1872, Ireland; d. 09 January 1939, Bridgeport, Connecticut.
Of note for Hariet: Her name is incorrectly spelled as "Harriet," on many Certs.
Correspondence with Raymond Knox - Th. 2/21/02 4:16 PM

Attached a photo which is marked on back Mrs. Tuft and son John, June 19 1940. Mrs. Tuft is, according to my records, Harriet McOrmond, daughter of John McOrmond and Sophia Wesley Byers. Sophia is the mother of my grandmother and Harriet is her sister. They were obviously known to my father who was the one who identified them to me. The photo is obviously American as houses are not built like that over here.

Who were the McOrmond folks who lived opposite? They must be related. Maybe I can throw some light on them as well as the connections seem to all start here.

Have fun,

Ray.

[Note: The folks who lived "opposite" were the McOrmond folks from Henry's (of James) clan: Mary Agnes, etc…]
Hariet and Thomas were married 09 October 1902, Bridgeport, Connecticut. Further research indicated they both were Naturalized in 1919. They had 2 sons, John and Thomas:
i. JOHN JAMES TUFT, b. 08 May 1904, Bridgeport, Connecticut; d. 24 August 1982, Mendoza, Argentina.
ii. THOMAS HENRY JR. TUFT, b. 22 May 1906, Bridgeport, Connecticut.

Both sons were Missionaries.
Hariet was buried 13 December 1950, in Mt. Grove Cemetery, Bridgeport, Connecticut, alongside her husband Thomas, buried 11 January 1939. TGP has procured copies of these records - and of course, are available.