Clan of William M. McOrmond

In his own words: "I have not traveled far – but exceeding much – helping to carry along these fine young boys to college portals – then back for another load. It's great work and my life work. The genus boy is my hobby and profession. His success is my dearest, most precious income, though it's not enough for me to live on. Some day I shall wish to head a school and wish to make it a great school, if by that I may serve best the cause of guiding some of the youth of America to be men, to be leaders and citizens of the City of Law and Order."
Raymond Richards McOrmond was born 17 April 1886, in Clinton, MA. He received his early education in Haverhill, while his dad, William, was with the Singer Sewing Machine Company. He entered Yale and graduated in 1907 from the Sheffield School, there. Within two years he was managing a summer camp for boys in Carmel, New York – while his winters were spent as an instructor in Mathematics and Physical Director, at the Woodbury Forest School, Orange., VA.
Church of the Good Shepherd -Baptisms recorded:

Raymond Richard McOrmond, born in Clinton on April 17th, 1886 and baptised on Oct. 10, 1886. Son of William and Emma, godmother was Mary McOrmond. The Rev. George Pratt was the priest.

Rev. Darrell Huddleston - Parish Records - 1896-1967

After a graduate course at Harvard in the summer of 1909, he began instruction Mathematics at the Choate School, in Wallingford CT. Three years later, he was the head of the department! A man of many talents, he was also in charge of athletics, head football coach, musical director, and faculty member of the board of the student publication, "The News." In 1916, he founded and became Headmaster of the Choate Summer Tutoring School. Its name was changed to the McOrmond Summer School in 1917.

By 1923, Raymond purchased the Westminster School in Simsbury, CT, becoming its Headmaster, President and Treasurer when he reestablished it as the Westminster School Corporation. To its original five buildings he added a dormitory and combined dormitory/classroom building. He built up a faculty of twenty teachers and secured enrollment of 160 boys. He moved the McOrmond Summer School for Boys, continuing that with a faculty of 15 members, for twelve years.
Raymond married Alice Bishop Dudley in a Ceremony performed by Levi M. Bowers D.D. at the Universalist Unitarian Church. It was at Haverhill, MA - Date of record 27 June 1933. At the time, Raymond was 27 years old, and living in Wallingford, CT as an Instructor and Alice, 22 years old.

Alice came from a great family of her own right. There are innumerous sources of information found for the Dudley Family. One of these is New England Family – it contains the history of the 1st Mass. Colonial Governor - Gov. Thomas Dudley. Many Genealogy books on the Dudley's. (There is a notation in the records for the Dudley clan that Alice's ashes were buried at Yale University)
While at Westminster, Raymond instituted there the first "Father's Day" observance in schools. This record speaks for itself, as students this day know of "Mac" and the challenges he faced through the difficult depression years. His portrait still hangs on a wall at the school. I was fortunate enough to have been there - the photo remains one of my favorites...

In 1936, Raymond resigned as Headmaster and the following year joined the Yale University press as a Special Representative.
Raymond was the author of four books: "Algebra Outline" (1915), "Plane Geometry" (1916), "Outline of Plane Trigonometry" (1921), and "Outline of Elementary Algebra" (1921). From 1916-1922, he was an examiner in mathematics for the College Entrance Exam Board. For a time, he was Director of the Mutual Bank and Trust Co., of Hartford, CT. He was a member of the Connecticut Mathematics Association, Cum Laud Society, Masonic Order and the Yale Club of New York, Graduate Club Association of New Haven University, Wampanoag, and Twentieth Century Clubs of Hartford, Shuttle Meadow Club of New Britain and the Sachem's Head Yacht Club (Commodore 1923, 1924) Of Guilford.

"Mac" (as he was called) enjoyed playing bridge, fishing, tennis and sailing. He also collected First Editions, voted Republican and was Episcopal. He is pictured below-left with his son, Raymond, Jr. - In an earlier photo, Alice is pictured at right with children Alice and Raymond Jr.:
Children of RAYMOND MCORMOND and ALICE DUDLEY are:



i. Alice Dudley McOrmond ("Pinky") b. 29 May 1914, Haverhill, Essex, Massachusetts;
d. 20 January 1980, New Haven, New Haven, Connecticut;
m. GEORGE DUDLEY VAILL, 27 December 1935, Millerton, Dutchess, New York;
He was born 30 October 1910, Winchester, Litchfield, Connecticut;
d. 04 April 1986, Colebrook, Litchfield, Connecticut.



ii. RAYMOND RICHARDS JR. MCORMOND, b. 16 October 1915, Haverhill, Essex, Massachusetts;
d. 29 March 1976, Neptune, Monmouth, New Jersey;
m. JEAN CAROL WHITE, 25 October 1942, New London, New London, Connecticut;
She was born 30 December 1920, New London, New London, Connecticut



iii. JEAN MCORMOND, b. 01 December 1918, Massachusetts; d. 07 September 1967, Stamford, Fairfield, Connecticut;
m. (1) WILBUR ROWE JR. GREENWOOD, 09 September 1939, Mansfield, Connecticut; b. 22 November 1914, Texas;
d. 21 July 1962, Stamford, Fairfield, Connecticut;
m. (2) ALEXANDER S. KELLOGG, 01 February 1964, Stamford, Fairfield, Connecticut; b. 17 January 1911, Guilford, New York;
d. 10 January 1992, Greenwich, Fairfield, Connecticut.

Raymond Richards McOrmond will be remembered as an understanding teacher, was thoughtful, considerate and inspired the respect and affection of his students. He was generous, impulsive and he had a buoyant nature.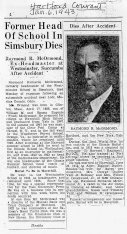 From the Hartford Courant
06 January 1943

Raymond McOrmond died in Lodi, OH on 03 January 1943, when his car slid on some icy roads returning home to CT.

Alice died many years later, 23 Dec 1966, in Middlebury, New Haven County, CT.

Their Gravestone may be found at Linwood Cemetery, Haverhill, Essex, MA - and is easily found in Section - S, Lot – 791

Sources: Penny and Trip (Raymond Richards, III) McOrmond,
The National Cyclopedia of American Biography, Vol. XXXII, 1967
History of the Class of 1907 Yale College, Vol. III, 1921.